If you see a poster listed with a price but no "Buy Now" button, we may have it but have not yet updated our database.
Please email or call us and we will arrange for you to buy the poster.
Click here for Elvis Presley movie posters.
Posters are listed alphabetically, please scroll down.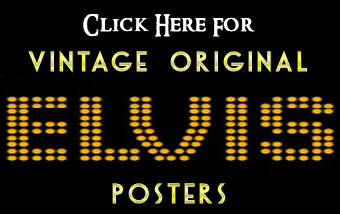 EMPIRE STRIKES BACK SEE OUR STAR WARS PAGE, CLICK HERE
ESCAPE FROM THE PLANET OF THE APES PLEASE SEE "PLANET OF THE APES"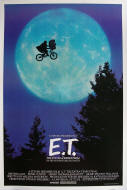 The bike/moon one sheet is EXTREMELY RARE. Only a few hundred were printed. Not intended for theatrical use, but rather a "Studio Issue" for cast and crew. All of the originals we have personally handled (a few came straight from former ILM employees) measure 26 3/4" x 40 1/2 (or within 1/8" of those numbers). There are reports from long time highly credible collectors of an authentic full size 27" x 41" version. This 27" x 41" version if authentic (we believe it is, although we haven't seen it) is undoubtedly much rarer than the 26 3/4" x 40 1/2" version as few have ever come to light within the collecting community. There are also reprints/bootlegs of this poster with varying sizes, so collectors beware!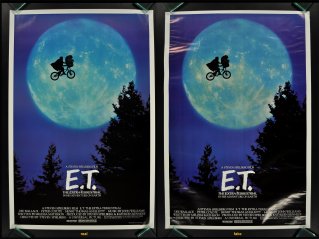 Comparison photo of a known original (on the left), versus a fake (on the right). Our original measures exactly 40 7/16" x 26 11/16". The fake measures exactly 40 5/16" x 26 7/8". We have heard that there were several different fakes made at different times with varying sizes and print quality. The fake shown here on the right is pretty good, but upon closer examination you can see the fonts are slightly pixelated as well as a few other minor printing differences. You can see more "light through the trees" on the original. Sadly, even with our hi-res photos most of these differences can't really be seen. They can be seen clearly though if examined up close in person.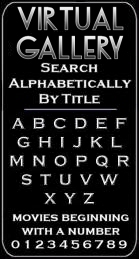 HOME VIRTUAL GALLERY GRADING/CONDITION DEFINITIONS ARTICLES U.S. SIZES FOREIGN SIZES LINKS FRAMES SEXPLOITATION
BLAXPLOITATION LINEN BACKING SHIPPING SPECIAL ORDERS JAMES BOND STAR WARS MARILYN MONROE ELVIS FRENCH ITALIAN ROCK
A B C D E F G H I J K L M N O P Q R S T U V W X Y Z
© 2017, CineMasterpieces.com
© 2017, CineMasterpiece.com
© 2017, JamesBondPosters.com
© 2017, StarWarsPosters.net
© 2017, idave.com
© 2017, cinegalleria.com
© 2017, bedecked.com
© 2017, moviepostershow.com