STAR WARS POSTERS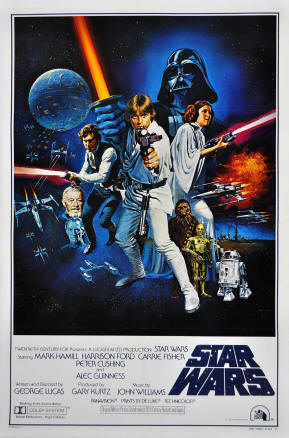 Welcome to CineMasterpieces!
Please scroll down to see some of the finest vintage original Star Wars
movie posters available for sale anywhere!
Prices range from $50.00 to over $5000.00.
We Have The Largest Selection Of Vintage Original Star Wars Posters On The Internet!
We Sell More Vintage Original Star Wars Movie Posters Than Anyone In The Galaxy!
Since 2003 CineMasterpieces.com has been used as a reference source by beginning and advanced collectors, non collectors, design professionals, home theater companies, Hollywood celebrities, memorabilia dealers, and auction houses worldwide. We have helped thousands of people determine whether their Star Wars posters are originals or reproductions. Our site is constantly used 24/7 for authentication and information. We have written several articles comparing known originals to "fakes".
Do you have questions about your Star Wars posters?
How can you tell if a movie poster is "original" "real" "authentic"?
There has always been a high level of collector interest in original Star Wars movie posters. The artwork on many of them is instantly recognizable and highly sought after by movie poster aficionados. There are thousands of different original movie posters from the 9 Star Wars films that have been made since 1977. Many foreign ones are quite rare. There are also many reprints, reproductions, and even fakes and bootlegs, so collectors beware!
BEWARE OF FAKE STAR WARS POSTERS!
Article: STAR WARS Bootlegs/Restrikes/Fakes
Posters without a BUY NOW button may be available by Special Order.
The World's Greatest Star Wars Vintage Movie Posters * Vintage Original Movie Posters * Star Wars Posters * Star Wars Movie Posters * Star Wars Film Posters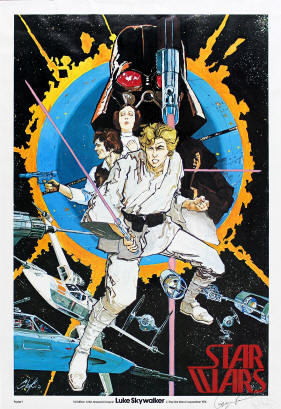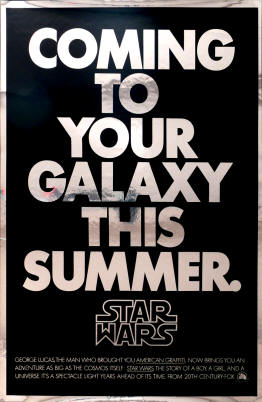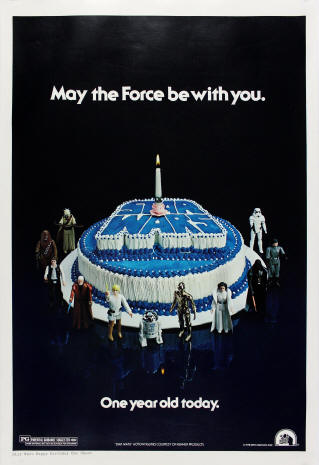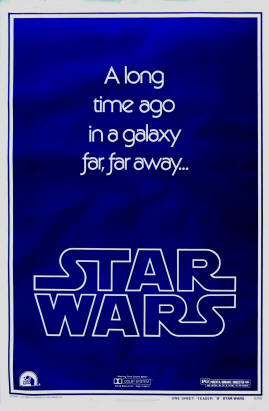 BEWARE OF BOOTLEGS OF THIS POSTER MISSING THE GAU LOGO.
STAR WARS STYLE C ONE SHEET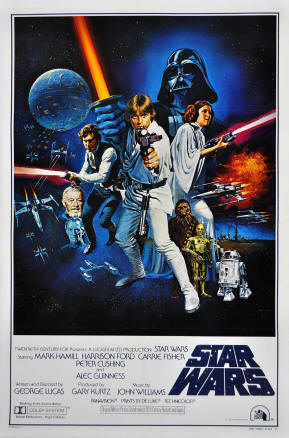 BEWARE OF BOOTLEGS OF THIS POSTER
(SEE BELOW)
STAR WARS STYLE D ONE SHEET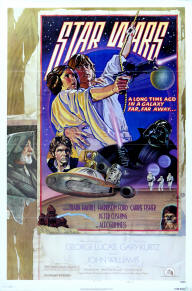 VERY LARGE 3 SHEETS, 6 SHEETS, ETC.
INSERTS AND HALF SHEETS
LOBBY CARDS & STILLS
ALL OTHER EPISODE IV POSTERS & MISC.
STAR WARS Episode IV: A New Hope
Non U.S. Posters
Episode V:
The Empire Strikes Back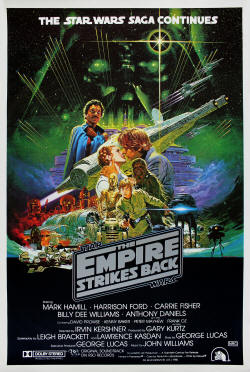 Australian One Sheet
Episode VI:
Return of the Jedi