Control your remotes with the
RemoteRack
Remote Control Holder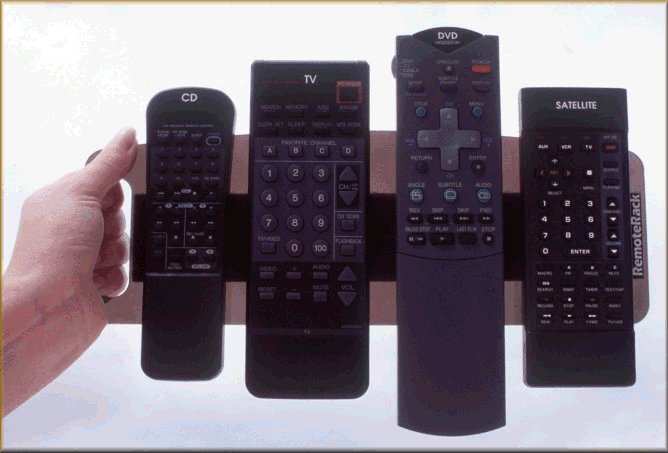 "Honey......where's the remote?"
Does this sound familiar to you?
Now you can control your remotes with the RemoteRack, a new product that allows you to use up to 5 of your remote controls at once. Ergonomically designed, the RemoteRack features a palette with a built-in handle. It is lightweight, portable, and it can be held in your lap while channel surfing. It keeps your remotes from being misplaced and it rids your coffee table of "remote clutter". No more lost remotes! Velcro is supplied so the remotes can be added and removed easily.
---

NEW LOW PRICE!

ONLY $11.95

COMFORTABLE DESIGN, LIKE ONE BIG "UNIVERSAL REMOTE"


HOLD IN YOUR LAP AND USE UP TO 5 REMOTES AT ONCE


REVERSIBLE, LEFT OR RIGHT HANDED


NO MORE REMOTE CLUTTER


NO MORE LOST REMOTES


GREAT FOR CHANNEL SURFERS


REMOTES ARE REMOVABLE WITH VELCRO

WHY DO I NEED A REMOTERACK WHEN I ALREADY OWN A UNIVERSAL REMOTE?
Universal remotes are great......no doubt about that. However, they can be frustrating for some people.
When batteries die on your universal remote, they can lose the stored information that you have painstakingly programmed in. Then they must be re-programmed!
Prices on some of the new "do it all" universal remotes can be costly.
Those who own them say they can be difficult to program and complicated to use. "too many buttons" is a common complaint.
They don't always have all the same functions as your original remotes.
Buttons are in a different place than your hand has grown accustomed to.
Even if you are a proud owner of a universal remote, chances are that your old remotes are still lying around somewhere "just in case". The RemoteRack will organize and keep them handy!
---

Large RemoteRack (holds up to 5 remotes) 4 1/2" x 13"
$11.95 + $5.95 Shipping Within U.S.

$11.95 + $25.95 Shipping OUTSIDE U.S.


Small RemoteRack (holds 2-3 remotes) 4 1/2" x 6 1/2"
$11.95 + $5.95 Shipping Within U.S.

$11.95 + $25.95 Shipping OUTSIDE U.S.

---
The RemoteRack is an inexpensive alternative. Use all your existing remotes and make one big universal remote!
The only way to truly control your audio and video components is with your original remotes. Stop fussing with that so called "universal remote".
Made in U.S.A.
Remote Control Organizer For Your Home Theater
Remote Control Holder For Your Home Theater
HAPPY CHANNEL SURFING!!

Makes a great gift!