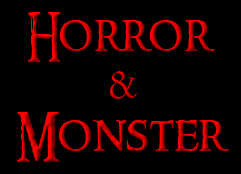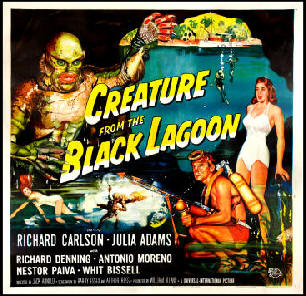 Throughout our site there are all kinds of posters from some of the best Horror and Monster films of all time. Below are titles of some of these posters. Please use the Virtual Gallery to jump to the title to see if we have it in stock. Please also see our Science Fiction page.
* Original Vintage Horror and Monster Movie Posters * Universal Horror * The World's Greatest Movie Poster Store *
---
28 DAYS LATER
A NIGHTMARE ON ELM STREET
A TASTE OF BLOOD
ABBOTT AND COSTELLO MEET FRANKENSTEIN, ETC.
ALIEN
AMERICAN PSYCHO
AN AMERICAN WEREWOLF IN LONDON
ASTOUNDING SHE MONSTER, THE
ATTACK OF THE 50 FT. WOMAN
ATTACK OF THE CRAB MONSTERS
BEAST FROM HAUNTED CAVE
BEGINNING OF THE END
BIRDS, THE
BLACULA
BLOB, THE
BLOOD BEACH
BLOOD OF THE VAMPIRE
BRAIN EATERS, THE
BRAM STOKER'S DRACULA
BRIDE OF FRANKENSTEIN, THE
BRIDE OF THE MONSTER
BUTCHER, THE
CANDYMAN
CARRIE
CHILDREN OF THE DAMNED
CHRISTINE
CREATURE FROM THE BLACK LAGOON
CREATURE WALKS AMONG US, THE
REVENGE OF THE CREATURE
CREEPSHOW
CUJO
DAWN OF THE DEAD
DISEMBODIED, THE
DRACULA
Please click on the letters in our Virtual Gallery to browse movie titles to see if we have the poster you are looking for.
A B C D E F G H I J K L M N O P Q R S T U V W X Y Z
EMPIRE OF THE ANTS
EVIL DEAD
EXORCIST, THE
FATAL ATTRACTION
FLY, THE
FRANKENSTEIN
FRANKENSTEIN MEETS THE WOLFMAN
FRANKENSTEIN MUST BE DESTROYED
FRANKENSTEIN VS. DRACULA
FRIDAY THE 13TH
FRIGHTENERS, THE
FROGS
FROM HELL IT CAME
GHOUL, THE
GIANT LEECHES, THE
GODZILLA
GREEN SLIME, THE
GREMLINS
HALLOWEEN
HELL NIGHT
HELLRAISER
HILLS HAVE EYES, THE
HORROR OF DRACULA
HORROR OF FRANKENSTEIN
HORROR SHOW
HOUSE ON HAUNTED HILL, THE
HOWLING, THE
HOW TO MAKE A MONSTER
INVISIBLE MAN, THE
I MARRIED A MONSTER FROM OUTER SPACE
I WAS A TEENAGE FRANKENSTEIN
I WAS A TEENAGE WEREWOLF
JAWS
JURASSIC PARK
KILLER KLOWNS FROM OUTER SPACE
KILLER SHREWS, THE
KING KONG
KISS OF THE TARANTULA
LAST HOUSE ON THE LEFT
MAD MONSTER PARTY
MADHOUSE
MOLE PEOPLE, THE
MONSTER OF PIEDRAS BLANCAS, THE
MONSTER THAT CHALLENGED THE WORLD, THE
MONOLITH MONSTERS
MOTEL HELL
NIGHT OF THE LIVING DEAD
NIGHTMARE BEFORE CHRISTMAS, THE
NOT OF THIS EARTH
OMEN, THE
ONE MILLION YEARS B.C.
PHANTASM
PHANTOM FROM 10,000 LEAGUES, THE
PHANTOM OF THE OPERA
POLTERGEIST
PROM NIGHT
PSYCHO
PUMPKINHEAD
RE-ANIMATOR
RESIDENT EVIL
RETURN OF THE LIVING DEAD
REVENGE OF FRANKENSTEIN, THE
REVENGE OF THE CREATURE
ROSEMARY'S BABY
SCANNERS
SCARS OF DRACULA
SCREAM
SHE CREATURE, THE
SHINING, THE
SILENCE OF THE LAMBS, THE
SLUMBER PARTY MASSACRE, THE
SPIDER, THE
STIGMATA
TARANTULA
TERROR, THE
TEXAS CHAINSAW MASSACRE, THE
THEM!
THING, THE
THING FROM ANOTHER WORLD, THE
TWO THOUSAND MANIACS
UNDERWORLD
VILLAGE OF THE DAMNED
YOUNG FRANKENSTEIN
WHITE ZOMBIE
WOLF MAN, THE
WEREWOLF OF LONDON
HOME VIRTUAL GALLERY GRADING/CONDITION DEFINITIONS ARTICLES U.S. SIZES FOREIGN SIZES LINKS FRAMES SEXPLOITATION
BLAXPLOITATION LINEN BACKING SHIPPING SPECIAL ORDERS JAMES BOND STAR WARS MARILYN MONROE ELVIS FRENCH ITALIAN ROCK
A B C D E F G H I J K L M N O P Q R S T U V W X Y Z
© 2018, CineMasterpieces.com