Welcome to our Virtual Showroom!

We primarily sell and auction authentic Vintage Original Movie Posters. Specializing in James Bond and Star Wars, we also offer Rock, Circus, and antique advertising posters. Our clients are worldwide and include design professionals, home theater companies, Hollywood celebrities, memorabilia dealers, beginning and advanced collectors, and non collectors. Established in 2001, our office/showroom is located in Scottsdale, AZ.

CineMasterpieces.com first went online in 2003 and is now one of the most recognized and visited vintage movie poster websites in the world.

To see pricing, details, and to start shopping please browse through our Virtual Gallery of Vintage Film Posters located at the top left of this page. Our entire inventory is organized alphabetically & searchable by title. We only sell original movie posters. No reproductions of any kind.

Our office/gallery address:

CineMasterpieces

7882 E. Gray Road #5

Scottsdale, AZ 85260

Open by appointment only.

Our mailing address:

CineMasterpieces

David A. Lieberman

6201 E. Cactus Rd.

Scottsdale, AZ 85254

We provide large detailed photos so you always know exactly what you are buying. Thousands of posters are in stock that can be purchased easily on line.

We offer a huge variety of select investment quality Original Movie Posters from some of the most memorable films of all time. We have posters from the U.S., France, Italy, and all over the world. No matter what your taste, we have something for you.

Several of our foreign posters have very colorful and incredible artwork. Many are truly RARE and highly sought after by collectors. Our inventory consists of titles from the early 1900's up until today.

No home theater is complete without a few original movie posters.

David A. Lieberman is the owner/founder of CineMasterpieces. He has been buying and selling posters for over 30 years.

If you can't find what you are looking for in our store, please check back frequently as we are continually updating our collection. You can also email or call us to

Special Order any poster and we will find and acquire one for you.

We are Always Buying, so if you have a collection to sell please contact us. We also offer Fixed Price On Site Consignment and Auction Consignment.

Many of our posters contain iconic images and are HIGHLY sought after by collectors. Some notable genres and titles include: James Bond, Star Wars, Disney, Warner Bros., Bad Girl, Biker, Car/Racing, Westerns, Horror, Science Fiction, Hitchcock, Jaws, The Blues Brothers, Oceans Eleven, The Godfather, Blade Runner, Scarface, A Clockwork Orange, Pretty Woman, Breakfast at Tiffany's, etc.

Almost ALL of our posters are INVESTMENT GRADE QUALITY and are stored in a smoke and animal free environment.

If you see something you like and want to view it in person, please let us know and we will arrange for you to come by our office/gallery where we will display it for you.

If you have any questions please visit the FAQ Page or you can call us anytime during normal business hours 10AM to 6PM Arizona time at 602 309 0500.

Click Here to read Customer Testimonials

We have an open and easy Return Policy so you can buy from us with confidence.

If we say a poster is an Original Movie Poster....it is. We will guarantee that poster for life!

David A. Lieberman
CEO
CineMasterpieces
---
About Original Movie Posters
Vintage Original Movie Posters have become extremely collectible and have come to be considered "true art" with great investment potential. With no signs of letting up, collectors and investors all over the world have driven the market with unprecedented demand over the last several years.
Most movie posters were printed in very limited quantities and all of them were not meant to be saved. After their initial use they were supposed to be returned to the studio or destroyed. Posters especially from the 1950's through the 1980's have become very popular. Many titles have skyrocketed in value and have been and continue to be an excellent investment. Unlike other investments, you can actually display and enjoy your vintage posters.
Please be aware that most original movie posters issued before the mid 1980's were issued FOLDED (over 95%). They were shipped to theaters this way inside film cans. This is not considered a defect. Vintage rolled posters do exist, however they are extremely rare. We can have any folded poster Linen Backed (an archival conservation and restoration method) which will make the fold lines virtually disappear and make it appear to be in "like new" condition.
Also please be aware that most movie posters were actually used at the theater and will contain slight imperfections like tears, writing on the back, pin holes, fold wear, etc. These are all very common and to be expected, but if they bother you, all these minor flaws can be remedied in the linen backing process.
Original Movie Posters can be found in various sizes ranging from small 11" x 14" Lobby Cards to very large billboard sized posters up to 10 feet tall by 30 feet wide. Most people though are familiar with the standard size One Sheet which measures approximately 27" x 41". This is the size that makes up most of our inventory.
We do not sell reproduction movie posters. Reproductions (or reprints) are posters that were sold in stores and were not issued by the studio. There are also unlicensed "bootleg" fake movie posters that appear genuine. The quality on them is excellent and they even fool many expert collectors. These have virtually no value and are not collectible.
Unless otherwise specified in the description, all pictures on this site are of the actual posters we have for sale (excluding STOCK photos for SPECIAL ORDER posters).
If you see a poster listed with a price but no "Buy it Now" button, we may have it but have not yet updated our database. Please email or call us and we will arrange for you to buy the poster.
---
PAYMENT OPTIONS
FOR U.S. and NON U.S. CUSTOMERS



Credit Cards accepted: Visa and MasterCard.
Discover and American Express accepted only through PayPal.
We also accept personal checks, cashiers checks, money orders, and direct bank wire/transfers.
Arizona Residents: Sales Tax will automatically be added at checkout.
PAY EASILY WITH VISA OR MASTERCARD ONLINE OR BY CALLING OUR OFFICE AT 602 309 0500
For posters priced at $2000.00 or more we will only accept cash, checks, cashiers checks, money orders or direct bank/wire transfers.
Full return privileges apply.
If you wish to pay by DIRECT BANK/WIRE TRANSFER, please email us and we will send you the required information.
NO WESTERN UNION
If paying by money order, cashiers check, or personal check,
please make it out to "CineMasterpieces" and send to:
CineMasterpieces
David A. Lieberman
6201 E. Cactus Rd.
Scottsdale, AZ 85254
---
OUR OFFICE/SHOWROOM
Our office/showroom is located in the Scottsdale Airpark and is open by appointment only (it is not a retail store). Our address is 15721 North Greenway Hayden Loop, Suite 105, Scottsdale, Az 85260. We sell posters worldwide to: DESIGN PROFESSIONALS (click here), OTHER DEALERS, THE HOME THEATER INDUSTRY, and to the general public.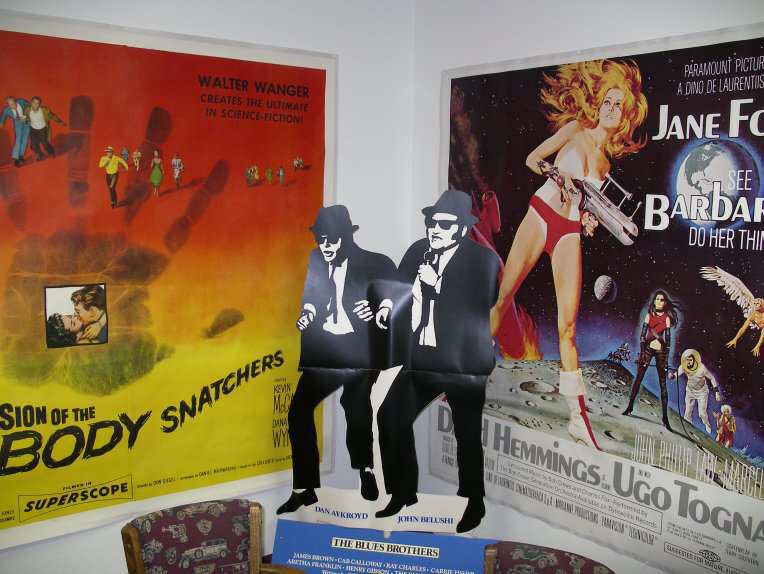 COURTESY TO THE TRADE
MAJOR AUCTION REPRESENTATION AVAILABLE
---
Join our Email list
Click here to join our email list so you can be notified of sales, promotions, auctions, and general news about movie posters.
---
Our Postcards
(not for sale)